Robotics kit by Robotis Robotis is not making fun of us with this brand new Bioloid "evolution" : Welcome to the Bioloid Premium. Supplied in kit, this complete and great robot offers great performances ! 4 different shape models can be created, The Bioloid Premium will sure seduce you with its mobility, walking performances and improved intelligence. Its variety, its skills while moving plus its wireless control make the Bioloid a "must-have". Make your own robot thanks to a transparent skin to customize head and chest of your Bioloid. This robot is a brilliant mix between look, abilities and performances. Could you really expect more?
Features of the Bioloid Premium
• Excellent walking performances for a humanoid robot (posture settings while walking is available).
• 4 different shapes in one kit !(Spider, Dinosaur, Puppy and Humanoid).
• Wireless control abilities (Infrared by default, Zigbee as an option).
• Different sensors including external accessory ports (Gyroscope, infrared and more).
• Humanoid transparent skin to create your customizable robot.
• C programming and moves are manageable with RoboPlus S/W (included).
• Digital packet communication with daisy chain topology.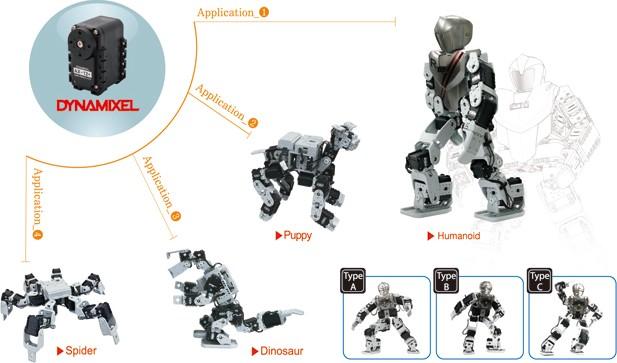 New Bioloid Premium CM-530 Microcontroller
Weight : 54g
Controller : ARM Cortex STM32F103RE
Working Voltage : 6V ~ 15V. Recommanded voltage: 11.1V (Li-PO 3cell)
Consumed Current
- When IDLE  : 50mA
- Exterior I/O Maximum Current : 300mA
- Overall Maximum Current : 10A (Fuse)
Working Temperature : -5℃~70℃
Internal I/O Device : 5 buttons, 1 microphon
External I/O Device:
- 6 OLLO Peripheral-Device Compatible 5 pin I/O Port
- 5 3-Pin Connector for Dynamixel using TTL Communication
New programming software : Roboplus
The Roboplus is the new software for programming the BioloidPremium. Based on the versions of the Behavior Control and Motion Editor, it has been specially enhanced for the Bioloid Premium.
Roboplus Motion : Editor movements.
Roboplus Task : Programmer behavior.
Roboplus Manager : Manager Dynamixel Servomotors + Debugger.
Roboplus Terminal : Serial Terminal to interact with the robot.