Bunker Pro Tracked Mobile Robot (UGV)
The Bunker Pro mobile robot is a tracked UGV robot with a heavy-duty design. It can handle the toughest terrain, both indoors and out, while putting up a solid defense against dust and water.
Description:
A mobile robot with impressive features
This robot is about 1 meter long and 85 cm wide, and can carry up to 120 kgof material! Researchers, engineers and designers therefore benefit from an ideal mobile platform for developing the robotics applications of their choice, in a wide range of environments.
Some key parameters to better understand the Bunker Pro's extraordinary capabilities:
An extremely powerful torque for overcoming obstacles without faltering
3 hours' autonomy thanks to a 60 Ah lithium battery
A steering angle of 0, which means it can turn on one axis in the tightest of spaces
A dual communication interface (CAN and RS433) offering multiple connection possibilities: IMU, sensors, video camera, etc.
Controllable from up to 100 meters away (in an unobstructed environment)
An open-source programming environment (ROS, SDK, etc.)
This tracked robot also has an IP rating of 67, which is the highest level of protection against dust and debris, and a high level of water resistance. Temporary immersion to a depth of 1 meter is therefore possible.
Many uses in hostile environments
the Bunker Pro mobile robot is designed for exploration, surveillance and transport operations in the most difficult terrain. Created to go where most UGVs won't, it can climb a staircase or slope of up to 30°, cross muddy ground and puddles, navigate both indoors and out, under concrete culverts, in wasteland, etc.
Its robust constitution makes it the ideal choice for all kinds of missions:
surveillance and video recordings
transport of equipment
building inspections
demining operations, etc.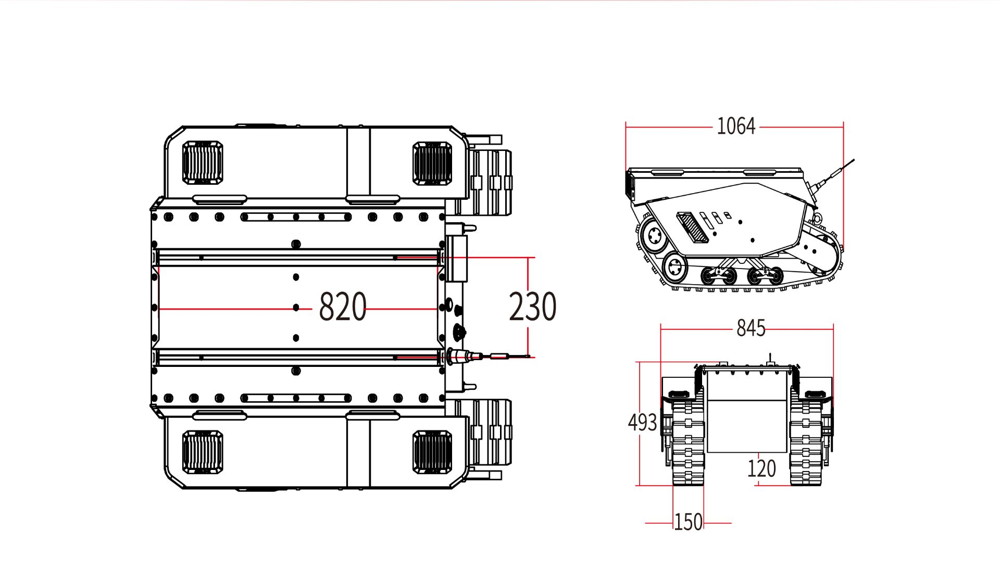 Technical specifications of the Bunker Pro UGV robot
Dimensions: 1064 x 845 x 473 mm
Interior dimensions: 800 x 370 x 300 mm
IP rating: 67
Min. ground clearance: 120 mm
Track width: 150 mm
Grounding rod length: 740 mm
Weight: 180 kg
Driving payload: 120 kg
Battery type: lithium 48 V/60 Ah
Charging time: 4.5 h
Motor: 48 V DC servo motor
Operating ambient temperature: -20 to 60 °C
2500 ppr photoelectric incremental wheel encoder
Communication interface: CAN/RS233
Christie suspension and Matilda 4-wheel balance suspension
Power rating: 2 x 1500 W
Rated torque: 144 Nm
Speed: 0 to 1.5 m/s
Maximum barrier height: 180 mm
Climb grade (no-load): 30° (can climb stairs)
Minimum turning radius: 0°
6 independent absorbers on each side
Remote control: up to 100 m without obstacles
Battery duration: 3 h
Remote control: the right rocker controls the movement of the vehicle