Custom Built Flight Sim Computers
FLY HIGHER AND IMMERSE YOURSELF IN SIMULATION
Powerful Enthusiast PCs designed to handle the most intensive Flight Simulations like FS2020.
Our PCs have powered Flight Simmers since the original release of Flight Sim 98, so if you're looking for a system powerful enough to render the richest textures and highest possible frame rates for FS2020, look no further. We specialize in import of custom flight sim PCs, each one hand built by a team of expert engineers using only the finest retail grade parts from Intel, AMD, and NVIDIA for superior performance and longevity. The skyway toward a truly jaw-dropping Flight Sim set up begins right here.
What is Flight Sim 2020?
Flight Sims are highly sophisticated programs that simulate nearly every aspect of flying a plane, right down to the highly detailed, geographically accurate scenery, real world weather, and lifelike physics on anything from a jumbo jet to a biplane. The most popular flight sim, Microsoft Flight Simulator X, was released in 2006 but still has a passionate following amongst enthusiasts. The latest iteration - FS2020 - brings an even more complete flight sim experience.
Ultra-Performance PCs
Because of their need to render detailed and highly complex scenery, flight sims, and specifically Flight Simulator 2020, are still some of the most hardware intensive games out there. That's where we come in. We are supplying some of the most benchmark-crushing ultra-performance PCs on the market for anything from a single screen set up to a sophisticated multi-monitor custom cockpit, helping pilots like you create the most realistic experience possible.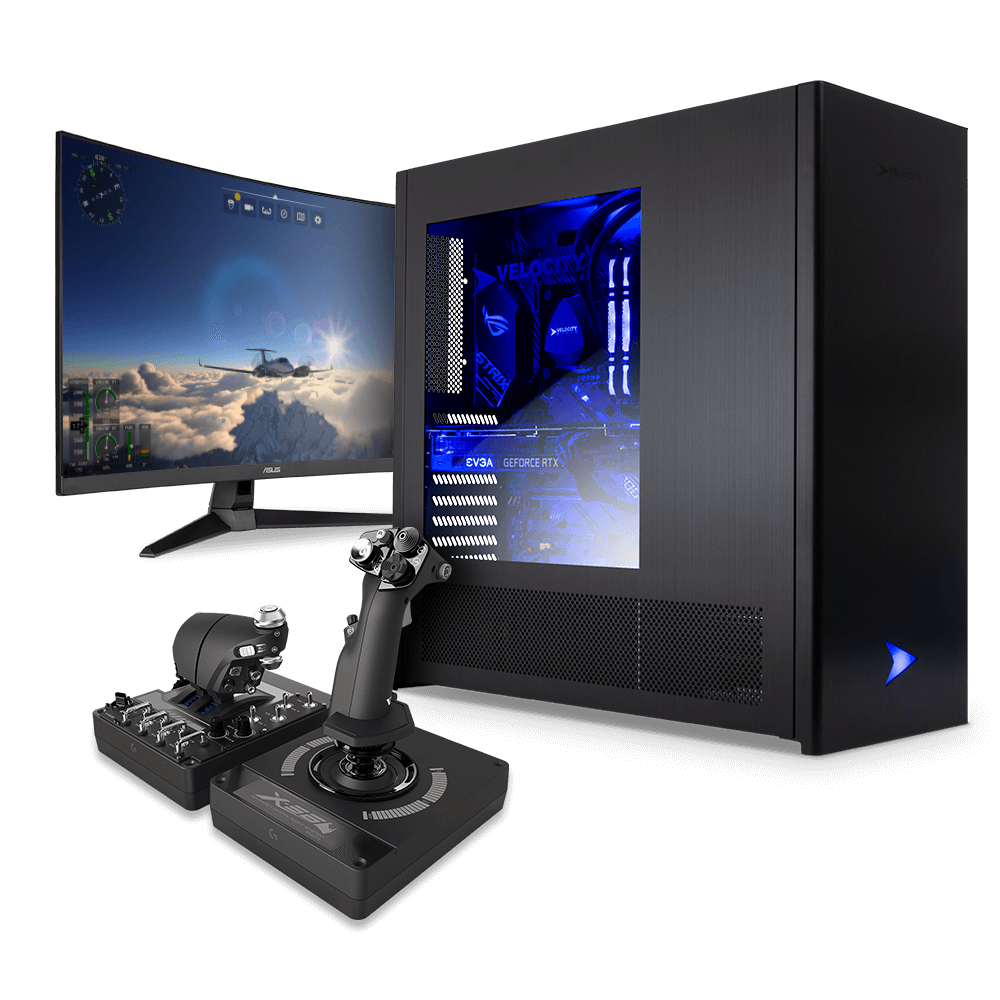 FS2020 Spec Requirements
Traditionally Flight Simulators have been more CPU intensive than other games, requiring multiple cores and high frequency to properly render complex scenes. That's why we recommend either Ryzen 9 or Intel Core i9 processors for the best FS2020 experience. Graphics card is an important spec as well, with RTX 30-series our recommendation with the RTX 3080 optimal for 4K Flight Sim. Per Microsoft, here are the "ideal" specs for running FS2020:
| | AMD | NVIDIA |
| --- | --- | --- |
| OS | Windows 10 | Windows 10 |
| CPU | Ryzen 7 | Intel i7 |
| GPU | Radeon 6800 | RTX 3080 |
| VRAM | 16 GB | 10 GB |
| RAM | 32 GB | 32 GB |
| SSD | 150 GB | 150 GB |
| Bandwith | 50 Mbps | 50 Mbps |
| | | |