DJI ROBOMASTER S1 Controllable And Programmable Educational Robot
DJI's RoboMaster S1 robot is a revolutionary educational robot that allows you to learn in an immersive way through the application and offers users a precise understanding of STEM (Science, Mathematics, Physics, Programming...). This new DJI robot offers professional equipment, intelligent features and different game modes to capture the attention of each user. 46 programmable components, 6 programmable AI modules, high latency HD FPV, Scratch & Python encoding, 4WD omnidirectional motion, smart detection armor, multiple combat modes, exciting and innovative hands-on learning.
DJI Robomaster S1: new generation educational robot!
Use of a powerful processor that allows the intelligent controller to simultaneously support different functions such as AI calculation, programming and transmission of low-latency HD images. The transmission is coordinated transparently to execute control signals.
Use of LED lights to plot the launch paths of gel beads and infrared beams, with a speed and launch angle limitation. The sound and movement effects of Robomaster S1 allow an immersive combat experience
Head rotation range of 540° x 65 : wide field of view for FPV camera, vibration control accuracy of approx. 0.02°, smooth image transmission and precision control experiment
Custom M3508I motor with integrated ESC FOC with an output torque of up to 250 mN-m
Linear sensors with algorithms for more accurate and stable closed loop control
Smart armor to detect bead impacts or infrared beam: analysis and communication of hit data to incorporate them into the game in real time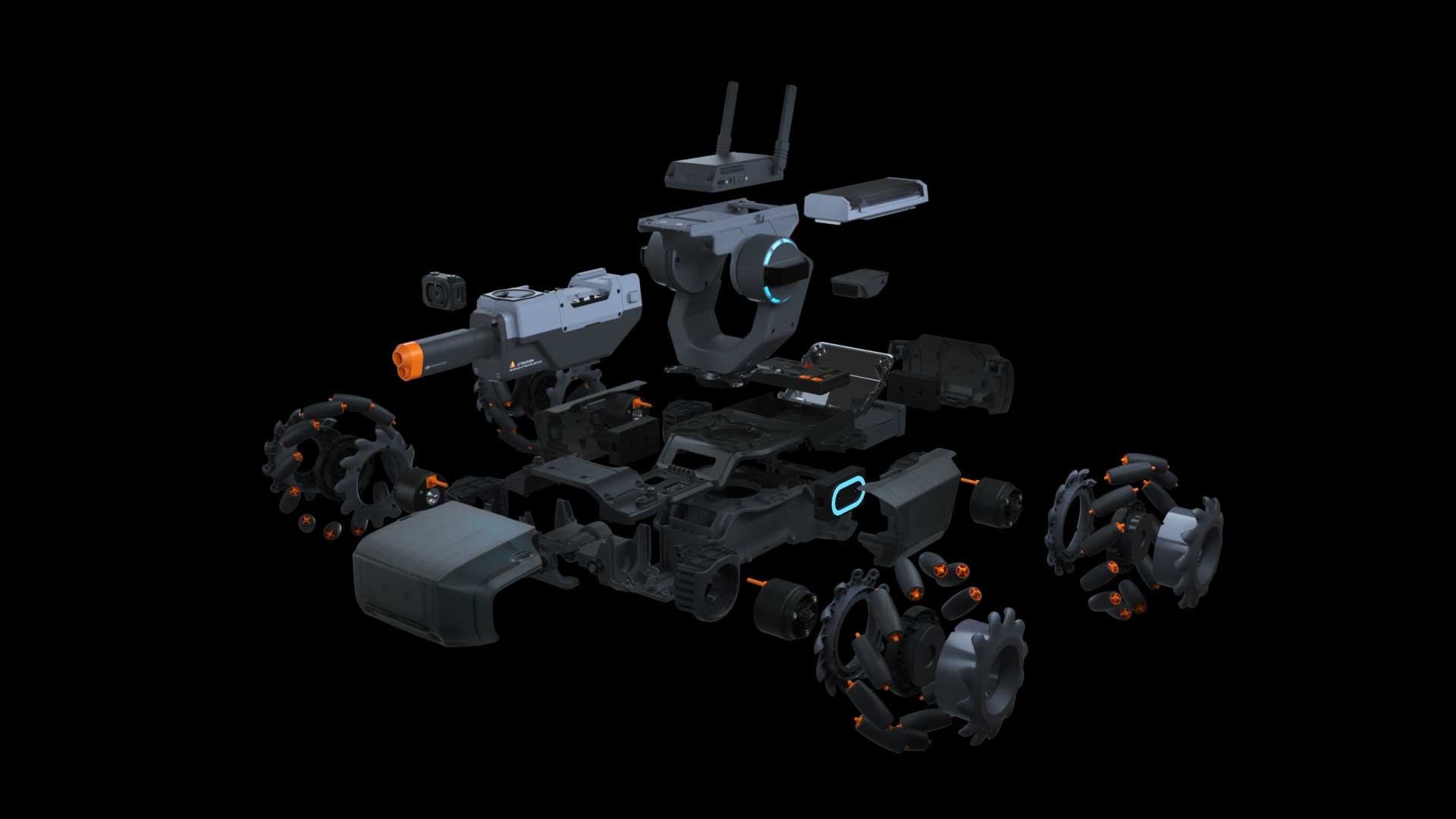 Python and Scratch programming of Robomaster S1
The Robomaster S1 educational robot supports Scratch and Python programming languages. Two options that will allow you to learn programming but also to push it to a more advanced level. The robomaster S1 is the perfect tool to move from an introductory level to an advanced programmer level.
Scratch 3.0: A classic visual programming language used in primary and secondary schools around the world.
Python: language widely used in the field of artificial intelligence.
Depending on the user's programming level, the 46 customizable components offer great opportunities for customization and innovation. The customization aspect allows you to learn in a captivating way by improving the capabilities and performance of the robomaster S1. This DJI robot supports custom accessories through 6 PWM ports.
Robomaster S1 and artificial intelligence
The Robomaster S1 is equipped with an artificial intelligence that allows it to recognize gestures, sounds, external events but also other DJI S1 robots. Innovative functionalities for a controllable and programmable robot, allowing to open the doors of artificial intelligence learning through a practical introduction.
Line recognition: possible programming of the robot to automatically follow a line on the ground. The robot's performance for this task depends on the application of knowledge in physics and mathematics
Vision marker recognition: Possible recognition of 44 vision markers with numbers, letters and special characters to expand programming and combat capabilities
People recognition through advanced technology to identify and track any selected individual in the FOV
Applause recognition with a programmable integrated click recognition module for personalized responses
Recognition of physical gestures and programming of Robomaster S1 responses
Recognition of robomaster S1 to expand gameplay and entertainment possibilities
Learning robotics through entertainment, challenge and competition
Use of vision markers for the creation of traffic lights and obstacles to create programs for the automatic control of the robot and the execution of complex tasks (6 programmable AI modules to explore the mathematical, robotic, mechanical principles of movement...)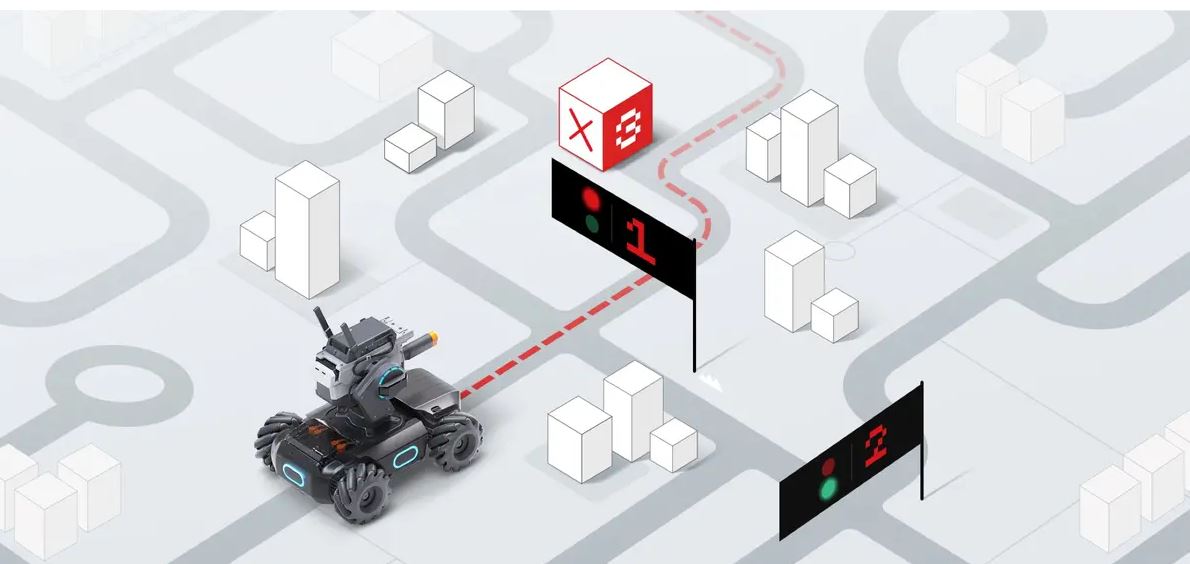 Enjoy a unique and immersive driving experience with the exciting perspective of the FPV
Race: Compete against your opponents on your own personalized track. Unlock special skills such as extreme speed by recognizing specific vision markers, or unlock weapons such as vertigo against competitors to gain an advantage and win the race
FFA: There can only be one winner in this competition of intelligence and speed. Use custom skills to gain an advantage and defeat your opponents in this exciting melee that uses the unique arbitration system and intelligent detection armor
Tailor-made skills development: apply your knowledge in class to compile customized codes and unlock unique features that will surprise spectators and beat the competition. With its new educational concept, Robomaster S1 helps users discover the pleasure of learning in a new and exciting way
Mobile application Robomaster S1
DJI's robomaster S1 has a dedicated application that supports cross-platform interactions and different operating methods. This application also offers a number of educational resources and several competition modes to explore.
Cross-platform Usage: Game features and modes are currently available on iOS, Android and Windows. The RoboMaster application even allows users of different systems to play together at the same time.
Various operating methods: Robot S1 can be used with a computer or mobile device via the touch screen, gyroscope and joystick.
Flexible programming and sharing: easily write programs and apply them or share them instantly with your friends using the RoboMaster application​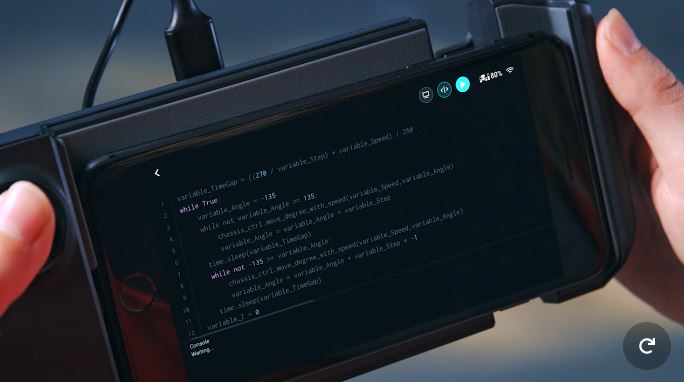 Features of Robotmaster S1
Camera
FOV: 120 ° C
Maximum picture resolution: 2560 × 1440
Maximum video resolution: FHD : 1080 / 30 fps / HD : 720 / 30 fps
Maximum video bit rate: 16 Mbps
Photo format: JPEG
Video format : MP4
Sensor: CMOS 1/4 ″; effective pixels: 5 MP
Operating temperature range: -10 to 40°C (14 to 104°F)
Narrow infrared units
Effective range: 6 m (under internal lighting conditions)
Effective area: Varies from 10° to 40°.
The effective area decreases as the distance from the target increases.
Wide infrared units
Effective range: 3 m (under indoor lighting conditions)
Effective width: 360° (under indoor lighting conditions)
Hit sensor
Detection requirements: For the accident detector to be activated, the following conditions must be met: gel ball diameter ≥ 6mm, trigger speed ≥20m / s, and the angle between the beat direction and the plane of the impact detector is not less than 45°.
Maximum detection frequency: 15 Hz
DJI Robomaster S1
Weight: approx. 3.3 kg
Dimensions: 320 × 240 × 270 mm (length × width × height)
Chassis speed range :
0-3.5 m / s (front)
0-2.5 m / s (rear)
0-2.8 m / s (laterally)
Max. frame speed: 600 ° / s
Brushless motor M3508I
Maximum rotational speed: 1000 rpm
Maximum torque: 0.25N * m
Maximum output power: 19 W
Operating temperature range: -10 to 40°C (14 to 104°F)
Driver: FOC
Control method: closed-loop speed control
Protection: Overvoltage / Overtemperature / Soft start / Short circuit / Chip and sensor fault detection
To control
Controllable release frequency: 1-8 / s
Maximum rejection frequency: 10 / s
Initial launch speed: approx. 26 m / s
Average load: Approx. 430
Dial
Adjustment range: step by step: -20 ° to + 35 ° / Lace: ± 250 °.
Mechanical range: Step: -24 ° to + 41 ° / Lace: ± 270 °.
Maximum rotational speed: 540 ° / s
Vibration control (on flat surface): ± 0.02 °.
Smart controller
Latency (depending on environmental conditions and mobile device):
Connection via Wi-Fi: 80-100ms / Connection via router: 100-120ms
(no obstruction, no interference)
Live display quality: 720p / 30fps
Maximum live display bit rate: 6 Mbps
Operating frequency: 2.4 GHz, 5.1 GHz, 5.8 GHz
Operating mode: connection via Wi-Fi, connection via router
Maximum transmission distance (unobstructed, no interference):
Wi-Fi
FCC, 2,4 GHz 140 m, 5,8 GHz 90 m
CE, 2,4 GHz 140 m, 5,8 GHz 70 m
SRRC, 2,4 GHz, 130 m, 5,8 GHz, 130 m
MIC, 2,4 GHz, 140 m
Router
FCC, 2,4 GHz 180 m, 5,8 GHz 300 m
CE, 2,4 GHz 180 m, 5,1 GHz 100 m
SRRC, 2,4 GHz 180 m, 5,8 GHz 300 m
MIC, 2,4 GHz, 170 m, 5,1 GHz, 180 m
Transmitting power (EIRP)
2 400-2 4835 GHz
FCC : ≤30 dBm
SRRC : ≤20 dBm
MIC : ≤20 dBm
.1 5,170-5,25 GHz
FCC : ≤30 dBm
CSRRR : ≤23 dBm
MIC : ≤23 dBm
.75,725-5,850 GHz
FCC : ≤30dBm
CSRRR : ≤30dBm
Transmission standard: IEEE802.11a / b / g / g / n
Smart battery
Capacity: 2400 mAh
Rated charging voltage: 10.8 V
Maximum charging voltage: 12.6 V
Battery type: LiPo 3S
Energy: 25.92 Wh
Weight: 169 g
Operating temperature range: -10 to 40°C (14 to 104°F)
Charging temperature range: 5 to 40°C (41 to 104°F)
Maximum charging power: 29 W
Battery life: 35 minutes (measured at a constant speed of 2 m/s on a flat surface)
Battery life in standby: approx. 100 minutes
Charger
Input: 100-240 V, 50-60 Hz, 1A
Output port: 12.6 V = 0.8 A or 12.6 V = 2.2 A
Voltage: 12.6 V
Rated voltage: 28 W
Application
Application : RoboMaster
iOS: 9.0 or later
Android: Android 5.0 or later
Recommended routers
TP-Link TL-WDR8600 ; TP-Link TL-WDR5640 (Chine)
TP-Link Archer C7 ; NETGEAR X6S (International)
Supported SD cards : capacity up to 64 GB
Recommended external power supply solution for routers: Laptop Power Bank (corresponds to the input power of the router)