EM-Tec silicon nitride support films and membranes for EM Electron Microscopes
EM-Tec silicon nitride support films and membranes for EM Electron Microscopes
Introduction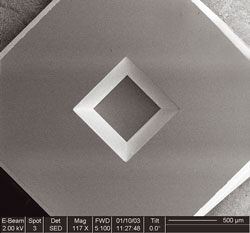 Silicon nitride membrane windows for TEM
The EM-Tec silicon nitride membranes are ultra-flat, stress optimised  and clean silicon nitride films for TEM applications. The properties of silicon nitride enable producing strong, chemical resistant, carbon-free, low background TEM support films. They are ideal for application such as nano particle imaging, quantitative carbon analysis, chemical experimentation on the support films, real-time chemical reactions and crystal growth research, thin film research,  on-film cell growth and multiple microscopy research techniques. The EM-Tec silicon nitride membranes are stress optimised for each window size and film thickness using proprietary algorithms and chemistry formulations. These support films are manufactured using state-of-the-art MEMS technology to produce debris-free, clean and highly planar membranes.
The silicon frame is fully compatible with the standard 3mm TEM grid holders. The SiN membranes are produced on a 2.65 x 2.65mm die with the back-etched corners to fit the Ø3mm opening in the TEM grid holders. The standard silicon frame thickness is 200µm, which provide an easy to handle and sturdy support frame. The 200µm thickness is compatible with virtually all standard TEM grid holders. For special TEM grid holders, a thinner silicon support frame of 100µm is available at a higher price.
Benefits of using silicon nitride membranes

:
amorphous, low background, low scattering material
high resistance to acids, bases and solvents
high temperature resistant up to 1000° C
carbon free, easily cleaned
large viewing area without bars
ideal support for multiple microscopy techniques such as TEM, SEM, FIB, EDX, Auger, XPS and AFM/SPM
Features of the EM-Tec silicon nitride support films for EM:
sturdy silicon nitride films with 10, 20, 30,50, 100 and 200nm thickness
fully compatible with Ø3.05mm TEM grid holders
clean, ultra-flat silicon nitride membranes
optimised membrane stress to achieve strength and high planarity
available with standard 200µm and 100µm thick silicon support frame
available in packs of 10 and packs of 25 in a standard TEM grid box
The silicon nitride membranes are made by growing a thin silicon nitride film with the desired thickness on a silicon wafer. After that, the windows are etched into the back of the silicon wafer to fully remove the silicon right up to the SiN layer. The wafer is then cut into 2.65 2.65mm squares and the corners are back-etched to make these unique products compatible with the standard 3.05mm TEM grid size.
Specifications of the EM-Tec silicon nitride support films for EM
Aperture size mm

Membrane thickness  nm

Frame thickness µm

0.1 x 0.1

10

20

30

50

100

200

200

100

0.25 x 0.25

10

20

30

50

100

200

200

100

0.50x0.50

10

20

30

50

100

200

200

100

1.0 x 1.0

-

20

30

50

100

200

200

100

1.0 x 0.25

-

20

30

50

100

200

200

100
F