Meet the Go 1 Edu and Edu Plus quadruped robot by Unitree Robotics, a mobile robotics platform designed for developing professional applications and for higher education.
Description:
Go 1 Edu / Edu Plus quadruped robot: accessible and efficient
The Go 1 Edu / Edu Plus quadruped robot has now made its debut in the high-performance robotics market. And unlike some models, such as the Spot quadruped robot, this platform is particularly accessible.
Go 1 Edu / Edu Plus is a quadrupedal mobile robot offering lots of development possibilities. It's aimed in particular at higher education and professionals, for developing applications in fields ranging from service robotics to autonomous surveillance.
With this Unitree Robotics creation, you can introduce a mobile robotic dog equipped with cutting-edge technology into any teaching, research or development lab.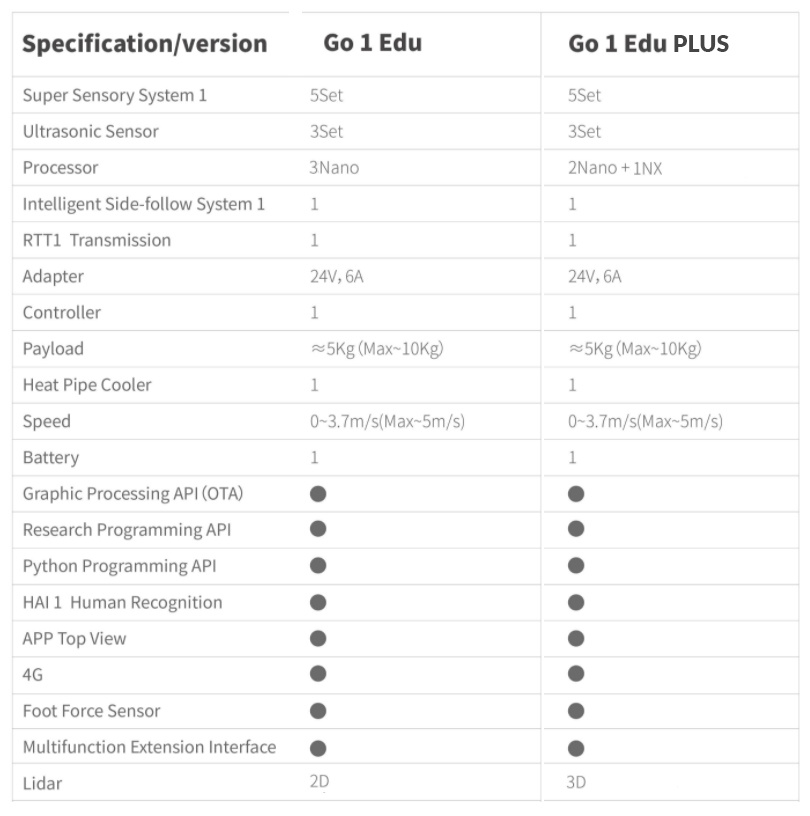 A light, compact and fast robot
The Go 1 Edu / Edu Plus quadruped robot combines all the functionalities of the most sophisticated robotics systems with a discreet, agile profile:
Go 1 travels at speeds of up to 4.7 m/s, or about 17 km/h
It has a robust but lightweight chassis that will resist most shocks
It can carry small loads: 5 kg on average, 10 kg max.
All this while weighing just 12 kg and measuring less than 60 cm long!
Side-Follow and Super Sensory systems
Unitree Robotics has focused its efforts on several areas:
The Side-Follow technology allows Go 1 Edu to easily follow someone and remain at their side, and to help them choose the best path in complex environments
The Super Sensory stereoscopic camera and sensor system improves your robot's autonomous navigation and obstacle avoidance capabilities
Its 16-core processor combined with a 384-core, 1.5 TFLOPS graphics processor give it a remarkably powerful artificial intelligence. For example, ISS and SSS function cooperatively to make all of the mobile platform's movements smoother.
Technical specifications of the Go 1 Edu / Edu Plus
Go 1 Edu quadruped robot:
5 sets of fish-eye stereo depth cameras
Angle: ≈ 150 x 170°
3 sets of ultrasonic sensors
Processors: 3 Jetson Nano boards
Intelligent Side-Follow system
RTT1 transmission
24 V/6 A adapter
1 controller
Max. payload: 10 kg
1 heat pipe cooler
Speed: ≈ 3.7 m/s
Max. speed: 4.7 m/s (17 km/h)
Graphic processing API (OTA)
Research programming API
Python programming API
HAI 1 human recognition
APP Top View
4G or 5G
Foot force sensor
Multifunction extension interface
1 2D LiDAR
Weight: ≈ 12 kg
Dimensions: 58.8 x 29 x 22 cm
Go 1 Edu Plus quadruped robot:
5 sets of fish-eye stereo depth cameras
Angle: ≈ 150 x 170°
3 sets of ultrasonic sensors
Processors: 2 Jetson Nano boards + 1 NVIDIA Jetson NX board
Intelligent Side-Follow system
RTT1 transmission
24 V/6 A adapter
1 controller
Max. payload: 10 kg
1 heat pipe cooler
Speed: ≈ 3.7 m/s
Max. speed: 4.7 m/s (17 km/h)
Graphic processing API (OTA)
Research programming API
Python programming API
HAI 1 human recognition
APP Top View
4G or 5G
Foot force sensor
Multifunction extension interface
1 3D LiDAR
Weight: ≈ 12 kg
Dimensions: 58.8 x 29 x 22 cm