Husky is a medium sized robotic development platform. Its large payload capacity and power systems accommodate an extensive variety of payloads, customized to meet research needs. Stereo cameras, LIDAR, GPS, IMUs, manipulators and more can be added to the UGV by our integration experts. The Husky's rugged construction and high-torque drivetrain can take your research where no other robot can go. Husky is fully supported in ROS with community driven Open Source code and examples.
Husky was the first field robotics platform to support ROS from its factory settings. Use Husky to integrate with existing research and build upon the growing knowledge base in the thriving ROS community to get started producing research results faster. Husky uses an open source serial protocol and we offer API support for ROS, and options for C++ and Python.
Husky is an elegantly simple design built out of durable materials with very few moving parts. Its high-performance, maintenance-free drivetrain and large lug-tread tires allow Husky to tackle challenging real-world terrain. It will last for years of productive research.
Husky is trusted by hundreds of researchers and engineers globally. Numerous research papers have been published using Husky as the test set-up. Husky provides a proven benchmark for establishing new robot research and development efforts.
Husky has very high resolution encoders that deliver improved state estimation and dead reckoning capabilities. A finely tuned, yet user adjustable controller, offers incredibly smooth motion profiles even at slow speeds (<1cm/s) and with excellent disturbance rejection.
Our team of mobile robot experts can help you select and integrate payloads then configure the robot at the factory. Husky is plug-and-play compatible with our wide range of robot accessories and our system integrators will deliver a fully integrated turn-key robot.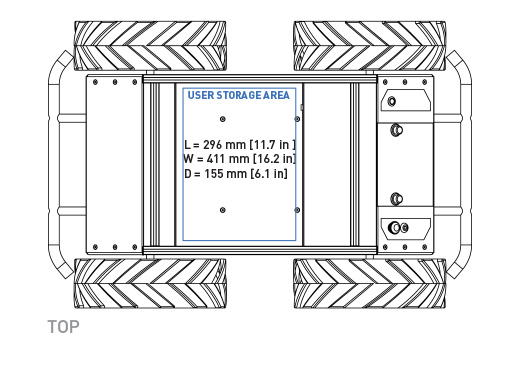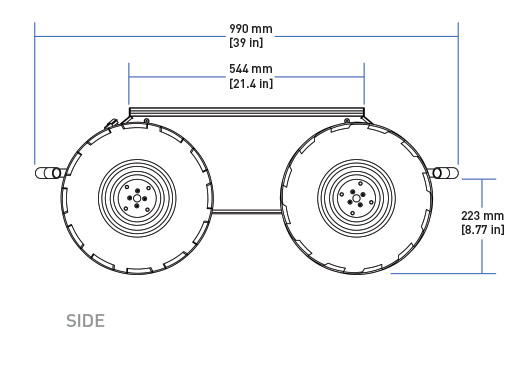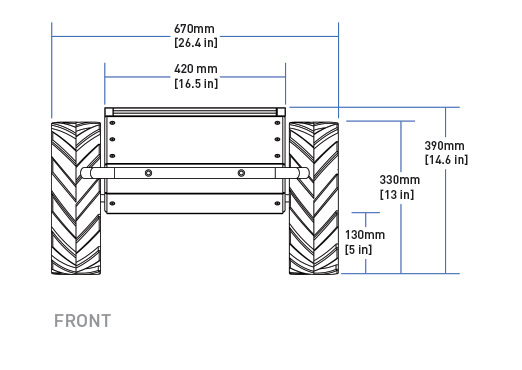 EXTERNAL DIMENSIONS
990 x 670 x 390 mm
(39 x 26.4 x 14.6 in)
INTERNAL DIMENSIONS
296 x 411 x 155 mm
(11.7 x 16.2 x 6.1 in)
WEIGHT
50 kg
(110 lbs)
MAX PAYLOAD
75 kg
(165 lbs)
MAX SPEED
RUN TIME
(TYPICAL USE)
USER POWER

5V, 12V and 24V fused at 5A each

DRIVERS AND APIS

ROS Melodic, ROS Kinetic, C++ Library, Mathworks