Leo Rover Mobile Robot (without arm) - assembled
The Leo Rover is a mobile research and educational robot running on a Raspberry Pi 3 that you can customize at will thanks to a wide range of modules!
Description:
Leo Rover: the all-terrain Raspberry Pi robot
More compact and lighter than most, the Leo Rover mobile robot for research and higher education consists of a rectangular platform mounted on a 4-wheel drive chassis, capable of adapting to the most difficult terrains. Its water-resistant platform can carry up to 5 kg of equipment, and the Leo Rover has an autonomy of 4 hours – enough to organize long expeditions in hostile terrain!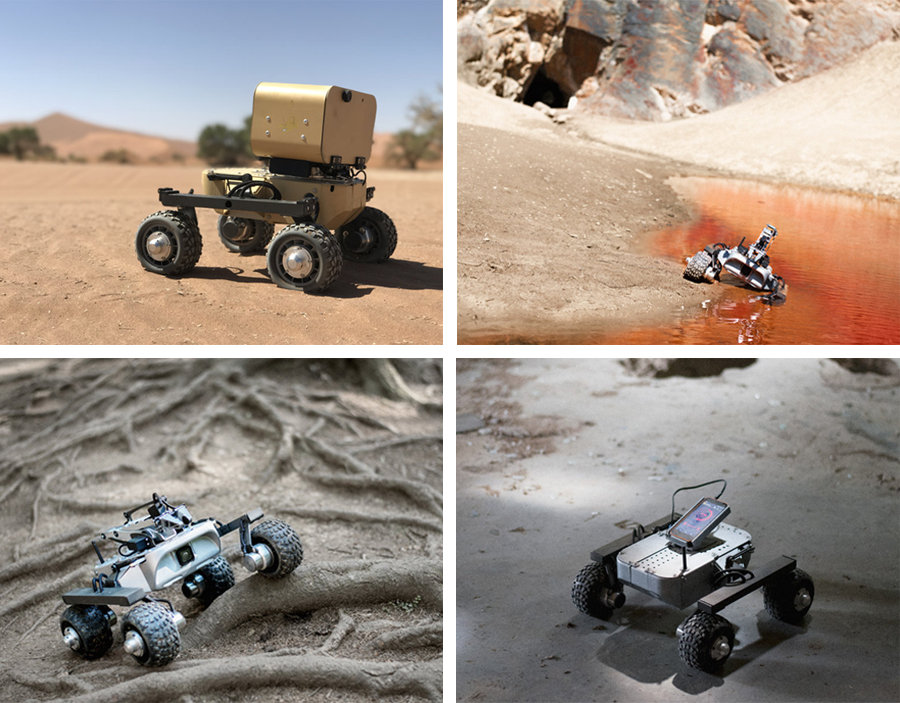 Built on a Raspberry Pi 3, the Leo Rover offers a wide range of connectors (SPI, USB, etc.) allowing you to add extra modules, for example an IMU for navigation, sensors or a LiDAR range finder. And because Raspberry Pi is synonymous with open source, you can develop your own DIY Martian rover as you see fit (no project is too small!). There is a vast community just waiting to help you work on your Leo Rover projects and discover new ones.
A WiFi range of up to 100 m
This Raspberry Pi mobile robot can generate a Wi-Fi hotspot to which you can then connect simply using your tablet, mobile phone or computer. You will then benefit from a 2.4 GHz wireless connection covering a 100 m range, and can control your mobile robot remotely via MacOS, Android or Linux. Then launch the live video streaming to see through your rover's eyes thanks to its on-board camera! Its intuitive live streaming software was inspired by the missions carried out by exploration robots on Mars.
Technical specifications of the Leo Rover robot
Includes:
1 Leo Rover robot, fully assembled, waterproofed and tested
(robotic arm sold separately)
1 battery charger
1 battery (contact us to buy extra batteries)
1 hex-head screwdriver for mounting and dismounting additional modules
3D-printed spanner for interface connectors
Servo adapter
Main computer: Raspberry Pi 3B
Microcontroller: STM32F100C8T6
Wireless STM32 programming
Open communication protocol
Protection rating: IP66 (not certified)
Connection: WiFi 2.4 GHz
Connection range: up to 100 m (with live video streaming)
Device control with Android/MacOS/Linux (Leo video streaming does not support iOS)
Connections:
In the inner housing: 1 USB
External waterproof connectors (WEIPU SP13 type): 1 x USB, 3 x timer output/counter input/IO, 2 x 7V/2A, 1 x 24V/3A, 1 x 5V/1A, SPI
Communication: I2C, SPI, USB
Autonomy: up to 4 hours
Charging time: 2 h approx.
Camera: 2 MP CMOS OV2710
Fisheye lens with 170° field of view, 0.5 lux.
Drive: 4 DC motors with 3-stage planetary gearbox
Reduction ratio: 73.2
Rubber tyres with foam insert
Wheel diameter: 130 mm
Mounting holes (platform):
40 x M5 threaded holes on 18 x 15 mm grid for mounting the robotic arm
22 holes of 5.5 mm diameter on 18 x 15 mm grid
Weight: approx. 6.5 kg
Upper platform load capacity: 5 kg
Dimensions: 410 x 460 x 270 mm
Please note that the robot arm is an add-on