Mini Conveyor Belt for Niryo One and Ned robot
The Niryo One Mini Robot Conveyor Belt allows you to prototype an automated, bi-directional, speed-adjustable production line. It is used with the Niryo One robot or with its compatible controller module.
Description:
Niryo One Mini Conveyor Belt: your first industrial production line
Research into automated systems and industrial robotics first requires experimentation. The Mini Conveyor Belt for the Niryo One robotic arm has been designed for educational purposes, particularly for higher education: engineering schools, BTS, DUT GEII, etc., but also for professionals / industrialists looking for training systems for their teams.
It is a production line that can be operated in both directions and has an adjustable speed. Different programming modes are available, via Niryo One Studio or the Python and Arduino APIs. Once your algorithm is ready, you just have to launch your production. You can also move the robot axes manually, with an Xbox joystick or the Niryo One Studio teach mode. Finally, the Conveyor Belt can be controlled with ROS for advanced programming in Python ou C++.
The Niryo one Mini robot Conveyor Belt is available in a choice of two versions:
Standard Version : All the basic hardware to start your production line with Niryo One (robot arm not included with the Conveyor Belt);
Education Version : Take advantage of exclusive accessories to improve the robot's grip, manipulate colored objects, or create marks visible by the robot on the work surface (Robot Niryo not included with the Conveyor Belt).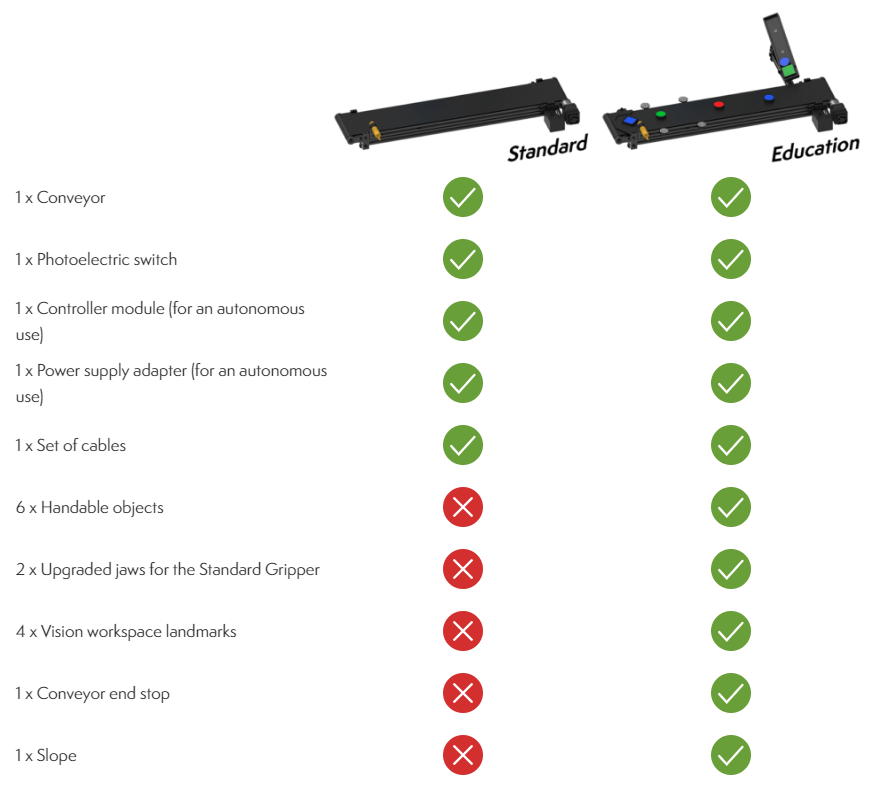 Two control modes for the Conveyor Belt
This robotic Conveyor Belt operates in two selectable modes:
The automatic mode allows you to start your production line without Niryo One, simply by using the included controller module;
The Niryo One mode involves a connection with the Niryo One robot. You then need to select your programming language.
Technical specifications of the Mini Conveyor Belt
Included:
1 Conveyor
1 IR Sensor
1 Controller module
1 Power Supply Adapter
1 Set of cables
Included (in the Education version:)
6 Handable objects
2 Upgraded jaws for the Standard Gripper
4 Vision workspace landmarks
1 Conveyor end stop
1 Slope
Weight: 5 kg
Dimensions: 750 x 250 x 100 mm
Conveyor belt:
Effective Delivering Distance: 700 mm
Dimensions: 712 x 225 x 60 mm
Direction of movement: Bidirectional
Drive Mode: Niryo One Stepper Motor
Control Method: Niryo One Studio / Python API / Niryo One Modbus / Arduino
IR Sensor:
Power: 4.5 V – 5.5 V
Signal: Digital input
Range: 6 cm – 80 cm