Scout 2.0 mobile robot (UGV)
Scout 2.0 is an indoor and outdoor mobile platform, dedicated to the development of multiple applications in higher education, research and industry. This mobile robot is CE certified.
Description:
Scout mobile robot: Robust and
skillful

UGV

Designed for research, teaching and development in industrial robotics, the Scout 2.0 mobile base falls into the category of Unmanned Ground Vehicles (UGVs). In addition to being CE certified, this autonomous mobile base offers good mechanical properties, as well as interesting performance in terms of movement:
A robust chassis that can carry up to 50 kg;
Agile steering with 4-wheel drive and independent suspension;
Zero turning radius. This helps in maneuvering in tight spaces;
All-terrain adaptability, indoors and outdoors;
Two communication interfaces (CAN and RS232) for the transmission of data related to motion, direction, etc. as well as secondary development.
It is therefore a rather compact and robust mobile platform with endurance provided by its 24 V Lithium battery. Its new cooling and temperature control system allows it to operate in extreme environments, or to handle multiple operations without overheating.
Indoor, outdoor and resourceful
The Scout 2.0 mobile platform offers full support for development systems such as ROS or Baidu Apollo. If we add to this the interface integrated into the robot, which allows the connection of a variety of peripherals, we get a very versatile mobile base. Ideal for higher education, research, development of industrial robotics applications, service or surveillance robotics, etc.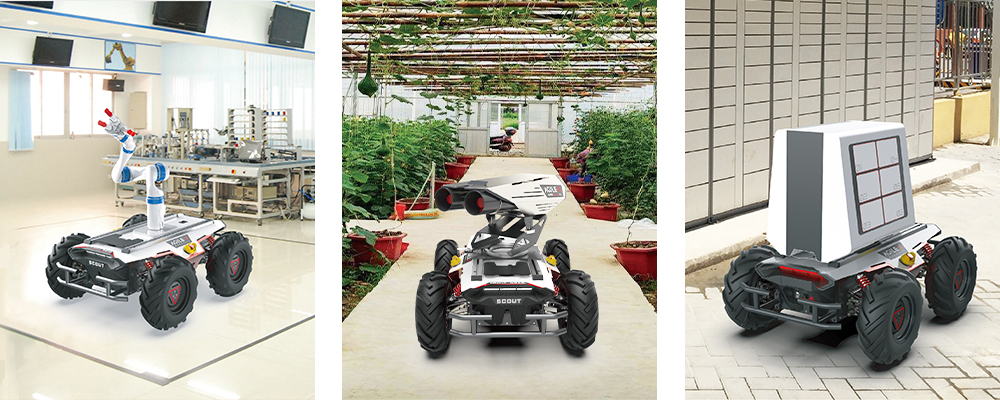 Its revised structure for optimal space saving, and its mechanical performance make this small mobile robot suitable for indoor and outdoor activities.
Technical specifications of the Scout 2.0 mobile base
Included:
1 SCOUT 2.0 Robot body
Key lock
IP 64
1 Battery charger (AC 220V)
2 Aviation plug (male, 4-pin)
1 USB to RS232 cable
1 Remote control transmitter (optional)
Dimensions: 930 x 699 x 348 mm
Wheelbase (mm): 498
Front/rear wheel base (mm): 582/582 mm
Weight of vehicle body (kg): 62 kg
Charge nominal progressive : 50 kg
Battery Type: Lithium battery 24V 30aH
Motor: DC brushless 4 X 400W
Reduction gearbox: 1:30
Drive Type: Independent four-wheel drive
Independent suspension with single rocker arm
Four-wheel differential steering
Safety equipment: Servo brake/anti-collision tube
No-load highest speed (m/s): ≤1.5
Minimum turning radius: 0°
Maximum climbing capacity: ≥30°
Minimum ground clearance (mm): 135
Remote control
Control command mode
RC transmitter: 2.4G/extreme distance 1km
Communication interface: CAN/RS232
CE certified