TECDRON TC200 mobile robotic platform (without arm)
TECDRON ROBOTIC SYSTEMS The TC200 mobile base is an ultra-flexible tool for teaching industrial robotics. You can also add numerous accessories, including collaborative robot arms, sensors and other electronic components.
TECDRON TC200 Mobile Robot: Industry 4.0 has just opened its doors
The TC200 by TECDRON is the first mobile robot of the new 4.0 industrial era. Equipped with 4 individually motorised wheels, 4 electromagnetic brakes and 4 encoders, it offers autonomous navigation features and a threshold-crossing capacity of 3 cm.
Its 120 kg payload allows it to carry numerous items of equipment to develop interaction and perform all kinds of missions in an industrial environment: screwing components, handling, etc. This ROS mobile base will make designing new robotics and industrial applications easier. It is intended for teachers training the engineers of tomorrow, as well as researchers and designers of industrial collaborative robotics solutions.
Compatibility of the TC200 mobile base
The tubular and open design of the TC200 ROS mobile base makes it particularly good for adding accessories of your choice. Compatible equipment includes:
Collaborative robot arms (e.g. Kuka and Universal Robots)
Sensors of all types for better navigation autonomy LiDAR, cameras, AHRS, etc.) and for better interaction with its environment (temperature, moisture, visual recognition, etc.).
Interchangeable wheels according to your projects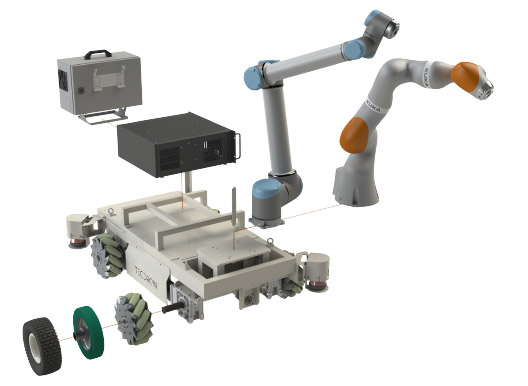 The TC200 omnidirectional mobile base is therefore ideal as an autonomous navigation, reconnaissance, safety or service robot or for helping industrial operators. Students of various levels can use this robot, as it suits different type of industrial robotics projects:
Low-level: motors controllers and battery;
High-level: ROS (this mobile robot comes with ROS already installed, as well as the ROS driver and ROS standard navigation stack).
Enhanced stability with the Bogie system
If a mobile base equipped with mecanum wheels, each wheel must be in contact with the ground, in order to execute accurate moves. The BOGIE system located at the front of the platform ensures an optimal are of contact between the 4 wheels and the ground.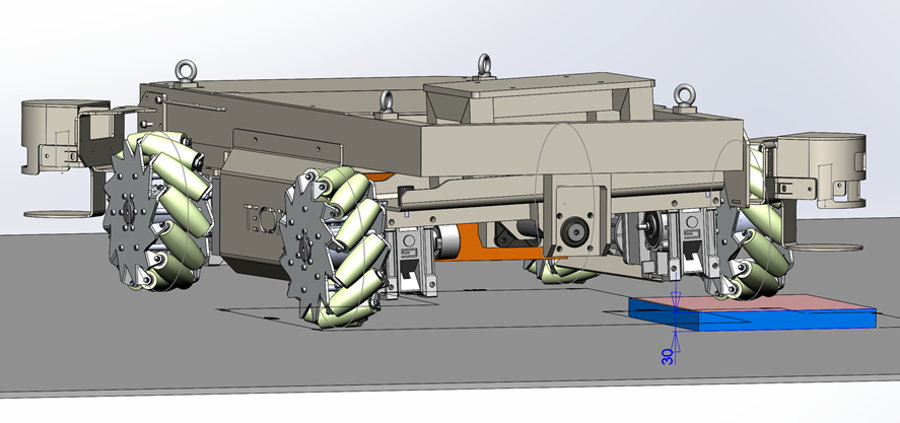 Thanks to this system, the robot can drive trough environments that are not perfectly flat, (passing through door thresholds for instance).The TC200 indoor mobile robot can make up for "flatness defects" of up to 3 cm.
Testimonial and project example involving the TC200 mobile platform
"The TC200 mobile robotic platform was developed as part of a collaborative innovation project of the Jules Verne Technology Research Institute. It was designed to meet industrial partners needs such as GE or Renault. The TC200 mobile robot allows omnidirectional motions. It fits various uses in the field of factory applications. Equipped with laser sensors and a dedicated safety management chain, the TC200 mobile base complies with the standards that apply to mobile robotics. In addition, its robust design and industrial architecture allows implementation to support high levels of performance."
Guy CAVEROT | Industrial Transfer Manager at Jules Verne Technology Research Institute

Project MASCOT - IRT Jules Verne - Using the TC200 mobile platform
Technical specifications of the TC200 ROS Mobile Base from TECDRON
4 Brushless electric motors with temperature sensor
4 Electromagnetic brakes
IP 43
2 LiDAR Sick LMS101
4 2048 PPM encoders
Max. payload: 120 kg
Max. power: 4.4 kW
Max. torque: 280 Nm
Dimensions (excl. accessories): 1228 x 323 x 795 mm
Grade: 10° (without load)
Tilt: 10° (without load)
Threshold-crossing capacity: 3 cm
Thrust (without load): 2200 N
Weight of the robot: 125 kg
Speed: 7.2 km/h
Battery life: 6 hours (riding)
Charge time: 4 h
Battery: Li-ion 51.1V @ 74.1 Ah (CAN bus)
Control bus: open (RS232, CAN, USB)
Control interface: open, ROS compatible