TURTLEBOT3 WAFFLE PI Robotis Programmable Robot
TurtleBot3 Waffle by Robotis is a powerful little robot for exploring ROS (Robot Operating System), bigger than the other flavor Burger. The Waffle includes some premium features: better computing, more sensing and more powerful Dynamixel servos.
TurtleBot3 Waffle Pi Open Source Robot
The TurtleBot3 Waffle Pi robot is an extended version with a high payload and additional sensors. Compact, modular, programmable and new generation mobile robot. Explore the ROS operating system and create interesting uses for training, research and development.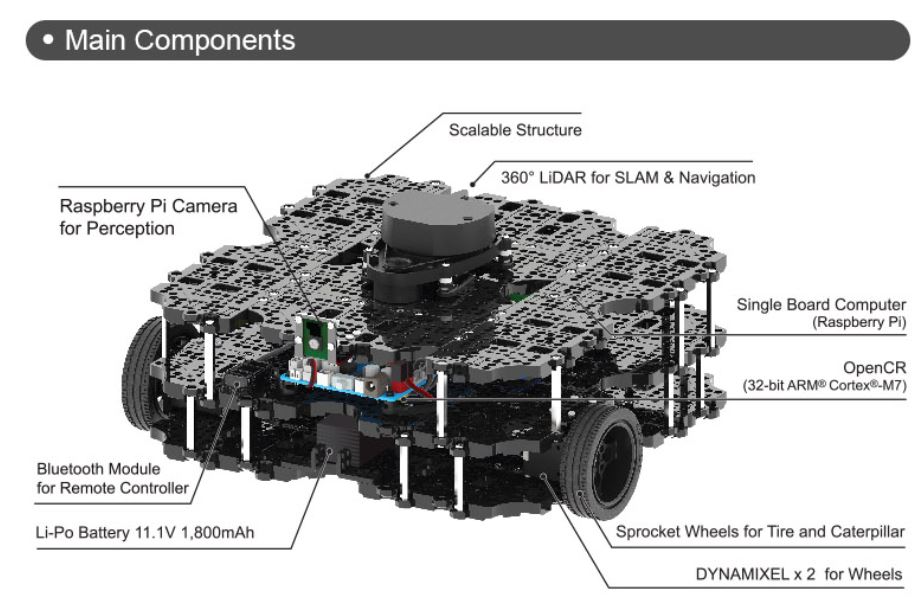 Turtlebot3 Waffle Pi Components
360° Laser Rangefinder (LiDAR) for mapping, positioning (SLAM) and navigation
variable modular structure
Simple on-board computer (Raspberry Pi 3)
OpenCR controller (32-bit ARM Cortex M7)
Raspberry Pi Camera
two Dynamixel servomotors for wheel control
gear wheels for bars and tracks
Lithium polymer battery (Li-Po) 11.1V 1800 mAh
Bluetooth module for remote control
Features of the Robotis Turtlebot3 Waffle Pi robot
Maximum progressive travel speed 0.26 m/s
Maximum angular velocity 1.82 rads/s / (104.27 degrees/second)
Maximum payload 30 kgf
Dimensions (L x W x H) 281 x 306 x 141 mm
Weight of the assembly 1.8 kg
Duration ≈ 2 hours
Charging time ≈ 2 h 30 min
Dynamixel Servomotor XM430-W210-T
Rasberry Pi 3 unique onboard computer
Integrated OpenCR controller (32-bit ARM Cortex M7)
Raspberry Pi Camera Sensors / 360° Laser Rangefinder (LiDAR) / 3-axis gyroscope / 3-axis accelerometer / 3-axis magnetometer
Turtlebot3 Waffle Pi: in the box
1x Raspberry Pi 3
1x OpenCR 1.0
24x Waffle-Plate
2x wheels
2x tires
1x 360 Laser Distance Sensor LSD-01
1x Li-Po Battery
2x Dynamixel XM430
2x USB Cable
1x Dynamixel to openCR Cable
1x Raspberry Pi 3 Cable
1x Camera Cable
2x BT-410
1x RC-100B
2x Ball Caster
1x USB2LDS
1x Raspberry Pi Camera
1x Camera bracket
12x PCB Support
6x Bracket
1x Adaptater Plate
22x Rivet
4x Silicone Spacer
4x Spacer
4x NUT_M2
24x NUT_M2.5
96x NUT_M3
12x Plate support M3 x 35mm
10x Plate Support M3 x 45mm
8x PH M2 x 4mm K
8x PH T2 x 6mm K
4x PH M2 x 6mm K
16x PH M2.5 x 8mm K
20x PH M2.5 x 12mm K
4x PH M2.5 x 16mm K
140x PH M3 x 8mm K